BED & BREAKFAST ANTICA PIAZZA DEI MIRACOLI IN THE HISTORICAL CENTER OF PISA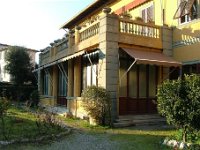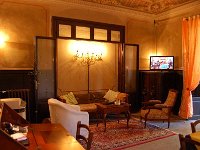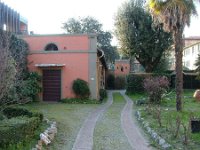 The Bed & Breakfast "Antica Piazza dei Miracoli" comes from the restoration of a Medici villa located in the historic center of Pisa.
The Piazza dei Miracoli where is the Leaning Tower, is located less than 200 meters. and it's easily accessible on foot
Exhibitions at the Kienerk Museum
Fauglia • Until 17/11
The Kienerk Museum plays host to the
second lot of works donated by the artist's
daughter and the exhibition Emilio Mazzoni Zarini and the revival of engraving in the
early 20th century
It offers rooms and suites with living room and veranda, all restored with original decorated ceilings and antique furniture.
The nineteenth century garden of 2000 sqm with flower beds and original plants, allows to have a large green space in the city center, perfect for relaxation and offering the possibility of a private parking.
Tour of the Piazza dei Miracoli
Pisa • Until 31/12
Every Friday, Saturday and Sunday at
11.30am, enjoy a guided tour of the worldfamous Piazza. The visit includes admission

to the Cathedral and the Baptistery.
It's possible to visit walking all the museums and monuments of Pisa, Piazza dei Miracoli and enjoy the magic of the Arno river and the Cittadella. Or, schedule tours of several places in the neighborhood of Pisa, that thanks its central positions offers the sea, the mountains, the city and the countryside.
Dal 10 al 13 ottobre a Pisa va in scena il futuro: quattro giorni di eventi in numerose location dislocate per la città, concerti, installazioni, mostre, incontri, contest e workshop.
OUR ROOMS: Sleep in Pisa in the historical center
EVENT
S
REVIEWS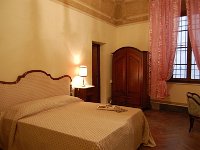 We have spacious rooms of different types.
Standard
Superior
Suite
12

October 2013 - 02 February 2014
Palazzo Blu opens its doors to the art of
Andy Warhol
f
rom the 12nd to the 02nd of February 2014

The exhibition will feature some 150 works providing a survey of a creative journey which turned upside down the art of the twentieth century.


Opening hours:
• Monday to Friday 10am to 7pm
• Saturday and Sunday 10am to 8pm
The ticket office closes one hour before.
| | |
| --- | --- |
| | "Det er placeret helt i centrum i de enrettede gader. Det var lidt svært at finde frem til, men en sms til værten og han kom på cykel og fandt os, så vi kunne køre ind til stedet. God parkeringsplads inde på grunden" |
| | "Grote kamer met airco! Dichtbij Piazza dei Miracoli met de scheve toren, restaurantjes en winkeltjes" |
| | "Bellissimo stabile d'epoca (non ristrutturato ma ben curato) con ampio cortile esattamente tra la Normale e la Torre. Un minuto a piedi da entrambe. Molto bella la suite, consigliato a chiunque." |
| | "L'accueil y est de grande qualité. disponibilité, sollicitude, gentillesse, promptitude, finesse. La maison est splendide, parfaitement entretenue et encore plus belle que dans les photos. Les espaces sont généreux , l'architecture superbe, bien mariée avec la décoration intérieure... C'est un plaisir d'y être, l'ambiance y est paisible, les meubles cirés, les gravures, le jardin... La chambre que nous avons louée était très spacieuse, avec une sublime décoration "liberty". La salle de bain était spacieuse et parfaite. Petit déjeuner servi avec soin dans une très belle salle à manger... Le salon est romantique, discret et reposant. Nous y retournerions bien volontiers... Nous le,recommandons sans hésitation. Le style de la maison et la grande qualité de l'accueil nous ont réjouis." |
| | "The room and garden were beautiful. Access to the garden right from the room was great for our two year old energy bomb. The room in which breakfast was served and the hall were also designed in a lovely antique style. The location was absolutely great and I would certainly stay there again when returning to Pisa." |
| | "Ein schönes, altes verwunschenes Pisa-Stadthaus, sehr freundliche, hilfsbereite B&B-Betreiber, tolle Lage - zentral und doch ruhig!" |
Walking Festival 2013
The
Walking Festival
is back from 7th September to 3rd November with plenty of themed walks and collateral events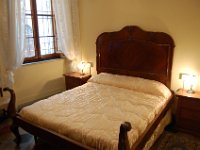 Opening hours of the outdoor thermal pool



The large

outdoor thermal pool

at Casciana Spa enables its guests to spend entire days alternating immersions with the pleasure of lying out on the soft turf of the surrounding gardens.